Platon NG Series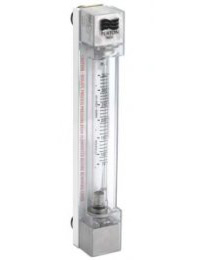 The NG series are our low cost frames for the standard 100mm scale glass tubes.
Ideal for panel mounting, the NG series are supplied with mounting studs and a rear facing exhaust vent to safely exhaust process fluid should a tube fail.
More details:
Models can have rear facing or in-line process connections and the NGV units have a built in needle valve for flow control. Float and scale visibility is improved through the use of a clear polycarbonate cover set against a white background.
Easy to use, high visibility scale
Simple and reliable
Gas flow measurement
Operator confidence from float rotation
Instantaneous response
Accuracy up to ±1.25% FSD
Air flow range 5 cm³/min to 150 L/min
Linear scales, typically 10:1 range
Glass tube removal without tools
Option of single or dual alarms
Option of integral needle valve
Special scales available on request
Specification
Frame
Black anodised Aluminium with rear racing pressure relief vent and Polycarbonate moulded front cover
Flow tube
Borosilicate glass with ceramic scale
Float
Duraluminium or Stainless Steel
End Blocks
Nickel plated Brass or Stainless Steel
O-ring Seals
Nitrile with Brass, Viton with Stainless Steel
Maximum Temperature
%
Downloads: